Shortly after writing about Why Small Businesses Shouldn't Be Afraid of Google+ Local, which focused on "best practices" that are still highly relevant in light of the new +Local/Places merger, I began to wonder what other helpful Local ranking tips the average local businessman is missing out on. When I say average, I simply mean those who don't have time to worry about changes in an algorithm because they're focused (and rightfully so) on their clients.
To find these tips, I decided to dive deep into the most recent Local Search Ranking Factors. This annual report is compiled by David Mihm and a handful of the best and brightest Local marketers. It shows what the experts deem to be the most important Local ranking factors, and it also provides comments to support their ideas.
I wanted to emphasize some factors, old and new, that give a great boost to your efforts in Local visibility. Also, being a man who enjoys a good acronym, I arranged these four helpful tips to spell out PLUS, simply because I can.
Let's get rolling, shall we?
Poke Your +Local Page
When speaking of this topic, I feel the need to reference a great quote by Leonardo Davinci that states, "Simplicity is the ultimate sophistication." This is most definitely the case when it comes to "Poking" our +Local (Places) pages, as it is incredibly simple, yet it has a great impact. Recently Linda Buquet, a Local virtuoso and a Google Top Contributor, wrote a fantastic article about Places Page Pokes.
A poke is a very simple concept, and the steps to give your listing a Poke are even simpler.
Head over to your Google+ Local Dashboard.
Click "Edit" on the listing of your choice.
Without making any edits, hit "Submit."


                                                       Best Get A-Pokin'!
The technical terminology for a Poke is a "null edit," as it simulates making an update to the details of your listing, thus notifying Google that this is an actively managed, owner-verified listing. It's akin to wearing a pink muumuu in a large crowd where everyone else is wearing all white; you just get noticed. This also falls under the "freshness factor," along with regularly updated blogs and active social profiles.
Break out of your shell…Poke your +Local listing today.
Source: sgclub.com

Links to +Local Pages and Location Keywords
As opposed to the Places pages of old, Google+ Local pages are indexed.

Does this mean linking to your +Local page will help its visibility in the relevant SERPs? I do believe so, but this doesn't mean switching any current link building strategy with a strategy to solely target your +Local page.
Dev Basu addresses this new opportunity:
"While in the past Place pages were not indexed by Google, it may be a worthwhile exercise to build links to Google+ Local Pages since they are indexed. One of the easiest ways of doing this may be to link to your Google+ Local page, site-wide from a business' own company website. One could also add links to the Google+ Local page in other structured and unstructured citation sources that support fields for multiple websites or links to social media channels."
So, when do you use Location keywords in titles and anchor texts? When used incorrectly, poor anchor text diversity can be seen as a "Spammy SEO" tactic. Nearly all of the recent Google algo updates have targeted spam, and destruction will rain down upon those sites that use "Spammy" optimization tactics! Well, that's what we're told, so better safe than sorry, right?

Let us refer to a quote from another Top Contributor, Adam Dorfman, about location keywords:
"Having a business that already has the location in the business title can be a very positive thing when it comes to rankings. But without citations, links, and a website that also includes a matching business title, this can have a very negative impact. In short, be careful when choosing to add a location to your Place page business name."

            Prime example of having Location keyword in Business Name
Adding a location to your name is undoubtedly cool, Sir David of the Utah Mountains, but you should avoid the potential penalty by keeping your business title as natural as the day it was created, without attaching location keywords.
URL Naming and Structuring
Planning URL structure is easily accomplished as you begin building your website. Include the service or product name along with your location in your landing page URL (i.e. http://www.yoursite.com/service–name–location). This helps show your website's relevance to search engines.

Again, the simple things can often make a big difference.
Now let us imagine that your website is a massive tree with many branches, and the Google crawler bots are spiders sitting at the base of this tree. The spiders will start at the base of the tree (your homepage) and make their way to the various branches (inner pages). The farther away the branch is, the less likely the spider will be able to easily reach it.
This analogy shows the necessity of inner pages that can easily be reached from the homepage. Having +Local landing pages that are three or four folders deep does not give search engine spiders sufficient opportunity to see how relevant and valuable your pages really are.
Structured and Unstructured Citations
Mentioned numerous times in the 2012 edition of Local Search Ranking Factors by David Mihm, structured and unstructured citations are important in more ways than you might think.
Structured Citations: These citations are in a format consistent with your +Local NAP format (name, address, place) and are located on an IYP or directory website. Keep citations consistent by using a microformat on your site. Quality and quantity of structured citations go hand-in- hand, as the quantity of citations does not have as much of an effect if the quality of the citations isn't up to par, especially on the big citation sites (Foursquare, Yellowpages, Superpages, etc). Having a large quantity of structured citations can help your visibility a lot. The bottom line is always, ALWAYS make sure your citations are accurate on the citation sites that matter most.
Unstructured Citations: These citations are the ones you would find in the content of an article where it is mentioned in an unorganized manner by a third-party source. Unstructured citations from high authority sites can GREATLY help your visibility.
As a reminder, paying attention to the consistency of your citations will help save you time and frustration in the future, as inconsistent citations are often the cause of duplicate listings.
= Danger!!!!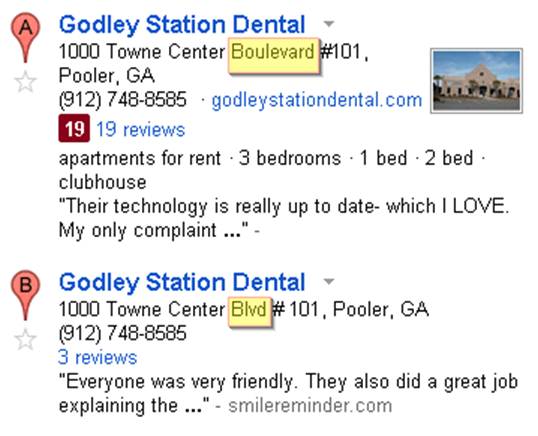 In Summary
To conclude this article, I will leave you with some helpful reminders:
Prepare yourself for the future. Just because you saw a +Local listing with location keywords in the title doesn't mean it's something you should emulate.
A poke a day brings the crawlers to stay! Freshness is definitely a factor, so take a few seconds and give your +Local listing a loving "null edit."
Are you writing a press release or an article you hope will go viral? Be sure to give yourself an unstructured or structured citation. Odds are good that it will be a citation your competition will struggle to replicate.
Be adventurous and obtain some branded links (anchor text that includes your business name) back to your +Local business page. The benefits will greatly outweigh the effort.